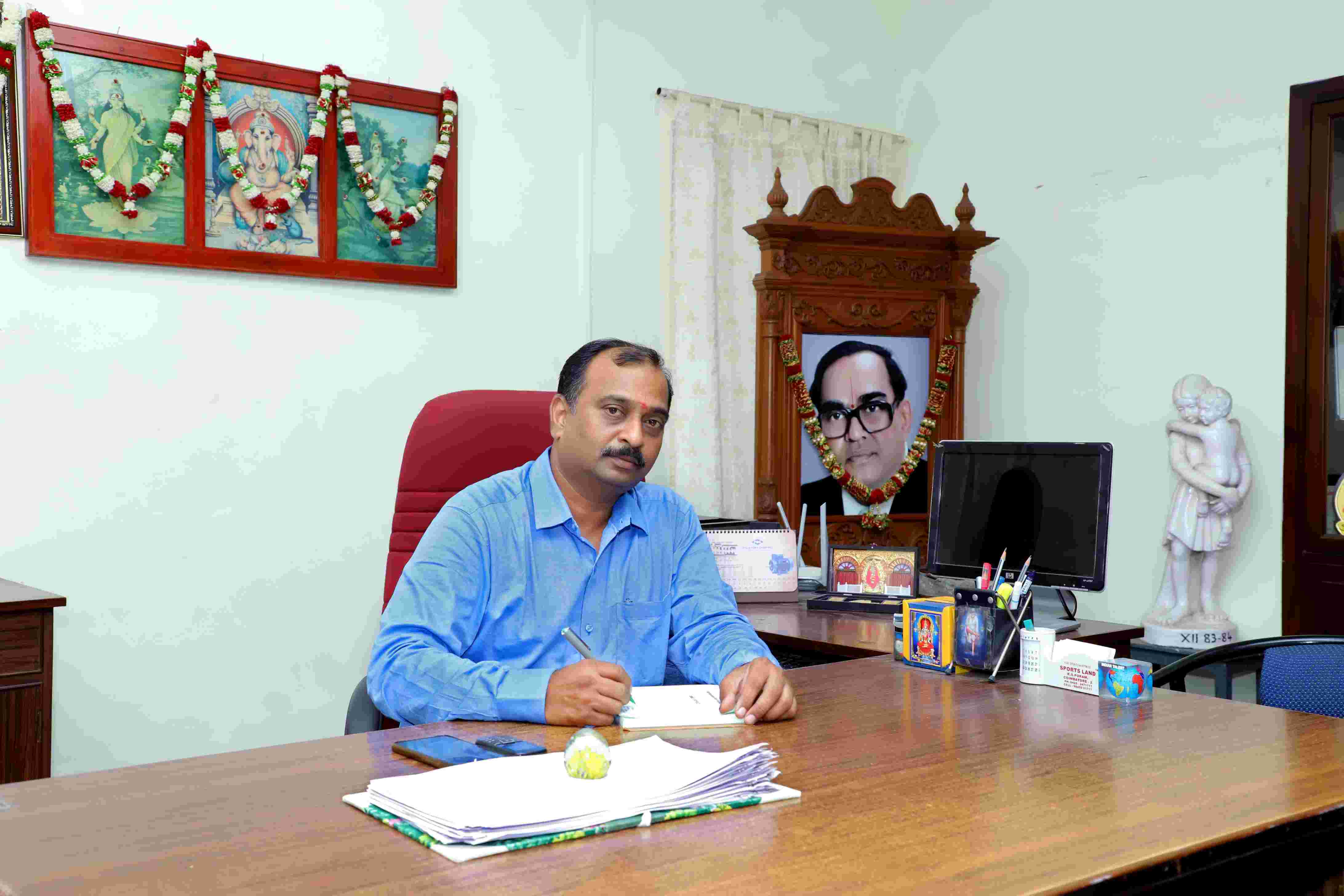 Mr. N. Saravana Kumar M.Sc., B.Ed., M. Phil
Principal Profile
A seasoned and passionate educator and an expert in Physics Mr. N. Saravana Kumar (M.Sc., B.Ed., M. Phil) has been a teacher par excellence. He has completed M.Phil. in Physics from Periyar University, M.Sc. and B.Sc. in Physics from Bharathidasan University. He started his career as a teacher. He is a visionary educationist with a panoramic experience of about 20 years in teaching. He successfully taught diverse group of students. He has produced exceptionally outstanding results by motivating, guiding and leading the students to secure state rank and centum.
With more than two decades of technical expertise in industry and academics, he has been good in all the domains he worked in. A vibrant person who has crossed many scintillating milestones through his brilliant career, repeats the same history by adorning the throne of GRG Matriculation Higher Secondary School as the Principal. He is a dynamic leader, reflective practitioner and enlightened source to reckon with. He has been instrumental in fostering a dynamic and interactive learning environment.
He expeditiously handles his role with diligence whilst promoting high standards of academic and co-curricular excellence. His vision is to develop holistic responsible citizens who can cater to the needs of the rapidly growing society. He provides necessary support to make students intellectually strong, physically fit, emotionally balanced, socially connected and spiritually sound. With deep rooted commitment to education, he believes to inspire teachers, students and staff through motivation and recognition. His accomplishments serve as an inspiration to school.
Principal Message
The golden years in school are not about lessons and home works but about growing and excelling in every way possible to fit into the fast changing and fast progressing world. We at GRG provide catalytic impulses to every child to broaden their horizon and in the process provide them a refined, holistic and substantial education. We march our children ahead with rich moral values, meticulous thoughts, systematic planning and smart action.
The school is an amalgam of scholastic and co-scholastic activities. With the development of technology and changing social demands, the mechanism of education is contemplated and perpetually evolved to groom the students in order to meet the new challenges our life presents. We identify, nurture and encourage the hidden talents, skills and abilities of each student and provide a platform to think, express and exhibit their skills.
Teamwork is the hallmark of GRG. Committed, caring and supportive management, highly qualified, dedicated and passionate teachers, co-operative parents and hard working non-teaching staff blend harmoniously to create child centric School. GRG, the lighthouse of societies and the citadel of culture, virtues, intellectual growth and behavioural standards builds up a bunch of creative, independent, informed, incisive and innovative individuals who can contribute to the society becoming responsible citizens and take the nation to the pinnacle of progress.
Education is the elixir of life.

Knowledge discovers ; imagination invents.

The only textbooks needed are the heart and the mind.

The only exam to be written is the key to ponder into wonder.

Wisdom is the greatest diploma of all the dream's creation of our imagination.

So, believe in yourself for you are their greatest student.

If you dream it, you can be it.

Believe it and achieve it.